17 gouache painting ideas to get you started
These 17 gouache painting ideas are a source of inspiration (with links to free lessons and classes), so you can practice and improve your gouache skills. If you're a beginner or an expert, there's always room to learn something new.
Table of Contents
Gouache painting idea #1: Landscapes
Landscapes can be simple or more complicated, depending on your style, and you can be realistic or more stylized, small or large, and it's the best way to play with textures and consistencies in a single painting.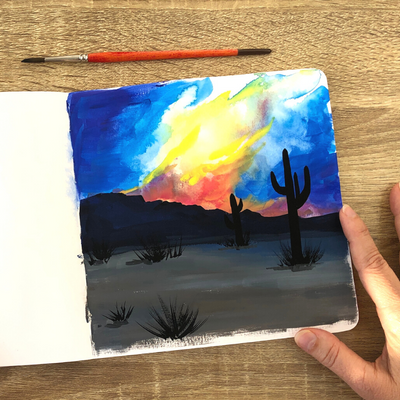 Gouache painting idea #2: Birds
Birds come in various shapes and colors; they are an excellent subject for painting. You can get different backgrounds, too, from the sky to leaves, and you can make a blurry background or a more detailed one, as you prefer.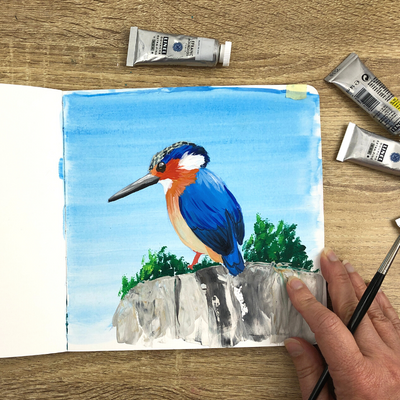 Gouache painting idea #3: abstract landscapes
After your painting session, don't throw away the paint on your palette. You can still use it to paint abstract landscapes. Spray the dry paint with tap water and use it with a credit card or a brush. Add colored pencils on top of the gouache for details.
Gouache painting idea #4: Mixed media
Did you know that you can mix gouache with different mediums? As long as they are water-based, you're good to mix! You should avoid oil paint and alcohol-based markers, though. Paint your background with gouache and add colored pencils, acrylic markers, soft pastels, and more.
Gouache painting idea #5: Fruits
Fruits are another excellent subject for painting as they come in various shapes and colors. You can paint several on a colored background, a close-up with many details, or a bunch of them together in a bowl. Fruits have a lot of different textures, and it's amusing to paint!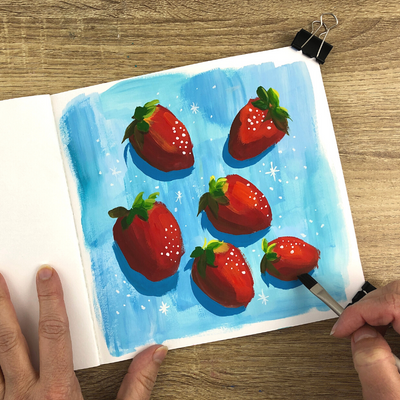 Gouache painting idea #6: Flowers
Flowers are an all-time favorite subject for painters, and you can also have them in different styles. You can paint stand-alone flowers, flowers in vases, play with textures and transparencies, add a background or not…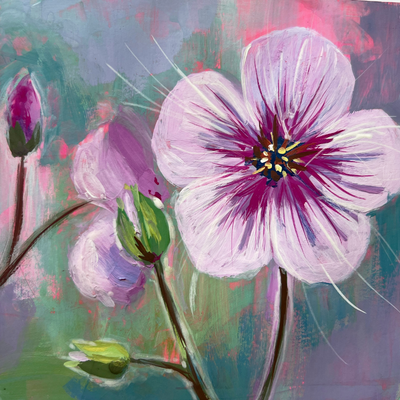 Gouache painting idea #7: Animals
Animal portraits are entertaining to paint. The furry texture can be challenging to paint, but if you follow my tutorials, you'll get to it quickly once you get the hang of it.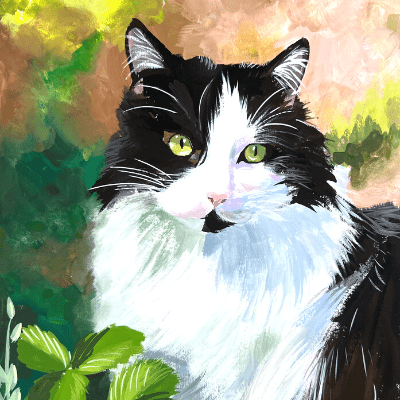 Gouache painting idea #8: Clouds
The shapes of the clouds are fantastic; you can have fun painting them! They can be very fluffy and colorful or white and transparent, and gouache allows blending and textures.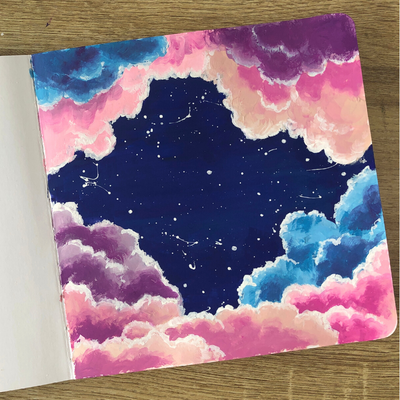 Gouache painting idea #9: Shoes
Shoes are an exciting item to paint; everyone has some at home! Torn and used shoes are amusing to paint. You can add flowers inside and get an unusual setup for your art., The materials used for the shoes are excellent for practicing different textures: leather, fabric, rubber, shoelace… It seems strange, but paint what you have on hand when in doubt!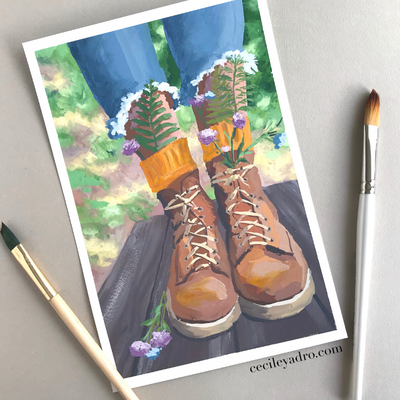 Gouache painting idea #10: Still life
Talking about painting what you have on hand, you can grab whatever is next to you, place it in an amicable arrangement and paint it. From your supplies on your desk to art supplies, vegetables, and bottles… the sky is the limit. These are quick and easy paintings to do as a warmup.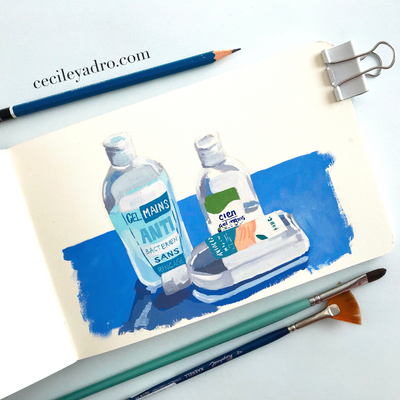 Gouache painting idea #11: pet portraits
If you have a furry pet, they make a funny subject for painting. You can create fond memories by adding elements to the portrait, like a patterned background, ribbons, and even glasses and necklaces. Painting the fur can be tricky, but by following my class, you'll learn how to do it.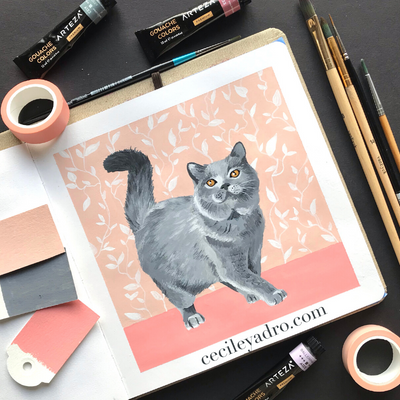 Gouache painting idea #12: Cactus
If you have some, cactus and potted plants have various shapes and colors, and the plant and the pot are an endless source of variations. This can be a quick painting if you make one pot or a large one if you fill a page with lots and lots of plants.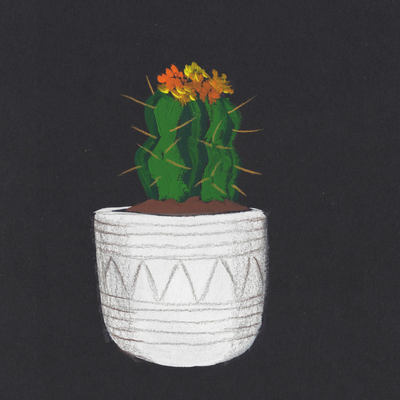 Gouache painting idea #13: Seascapes
The moving water has so much light, colors, and textures that it can be challenging to paint. Gouache is an excellent medium for this, as you can paint very liquid or thick, blend colors, add splattering, and even add clouds in the sky!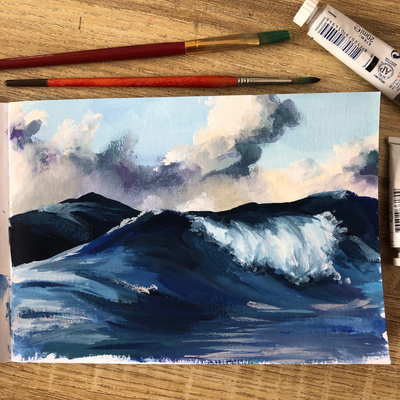 Gouache painting idea #14: Snowscapes
The snow can have a lot of colors, depending on the sun and the objects reflecting on it. It will mostly be shades of blue to figure out the cold winter light, but it can be any color you like! So, lots of fun ahead with mixing colors.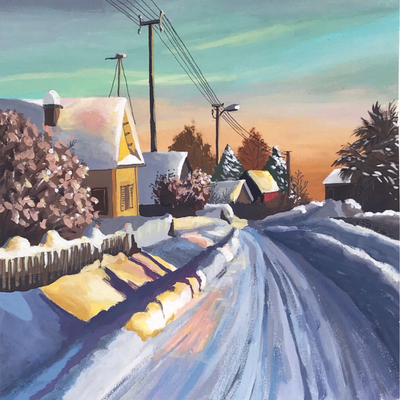 Gouache painting idea #15: Movie scenes
When you get the hang of gouache painting, you can move to more advanced subjects, like movie scenes. Anime is a trendy subject, especially Studio Ghibli scenes, which have many details and great composition.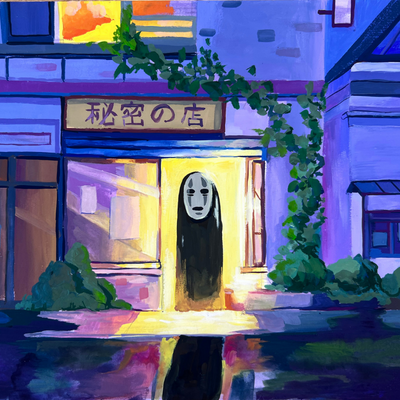 Gouache painting idea #16: Characters
Besides the drawing, you can learn much about skin tones, shadows, and light reflection.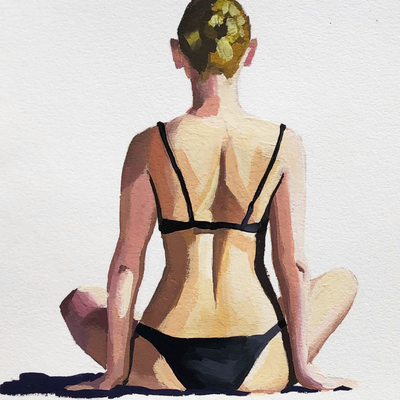 Gouache painting idea #17: Portraits
Human portraits can seem daunting to paint, and they can be if you don't have the method. With my 'Gouache Portrait Masterclass,' you'll learn the 5M method to paint any portrait you want with gouache.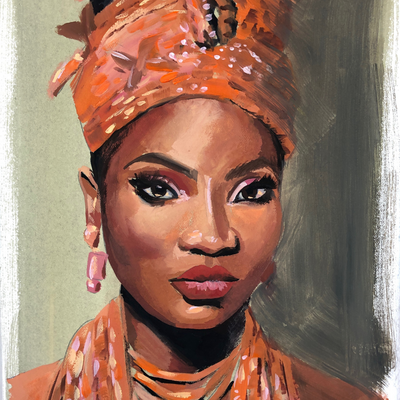 You can get more gouache painting ideas in this video: