Sunset gouache painting tutorial
How to paint a sunset step by step
Follow my beginner-friendly tutorial to paint a sunset with gouache painting. You'll learn how to make the colorful sky and the contrasting cactus.
Sunset gouache painting tutorial for beginners
Supply list
3 primary colors: lemon yellow, primary blue, Tyrian rose, white, black, ultramarine blue, and burnt umber. A round and a flat brush.
This is the sunset we are going to paint. And I would say the photo will inspire us, but we won't copy it exactly. You can download the image here, it's a copyright-free image by Tom Gainor on Unsplash. Meaning that you can use the image for your art, even to sell it and publish on social media.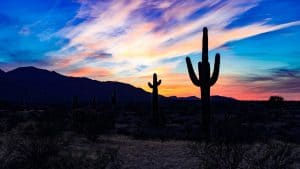 Drawing the landscape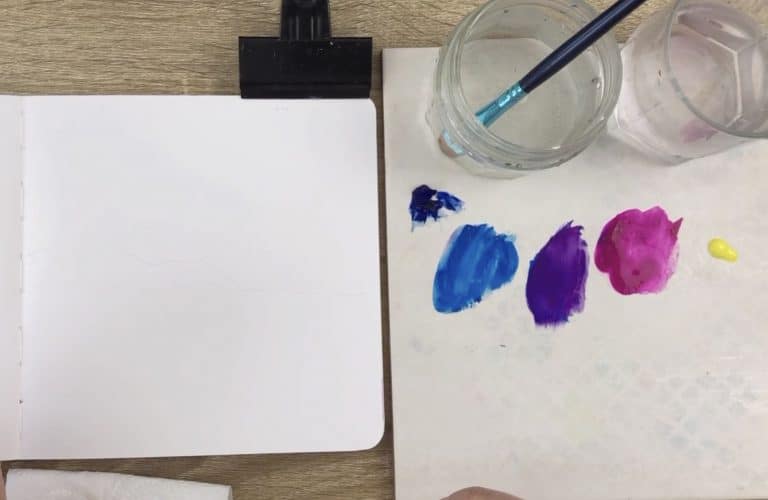 This is really minimal! Just draw the line of mountains so you know where to stop with the sky. And don't bother, as the mountains are so dark, you can cover any paint from the sky that would overlap the line.
Painting the sky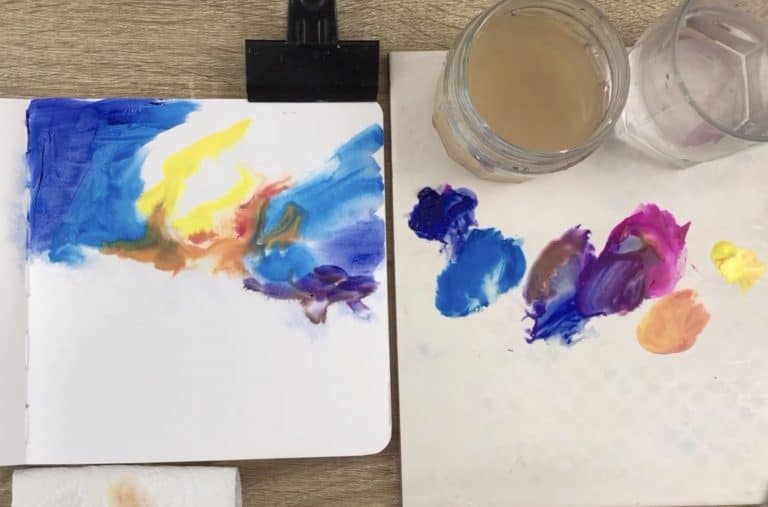 Spray clean water on the sky part to moisturize the paper, this will help the colors to bleed. 
Use a very watery mix of paint and place the main colors referring to the photo.
Try not to bleed orange in blue, or you'll get a nice muddy color!
To help fuse the colors, spray again on top of the paint.
Painting the mountains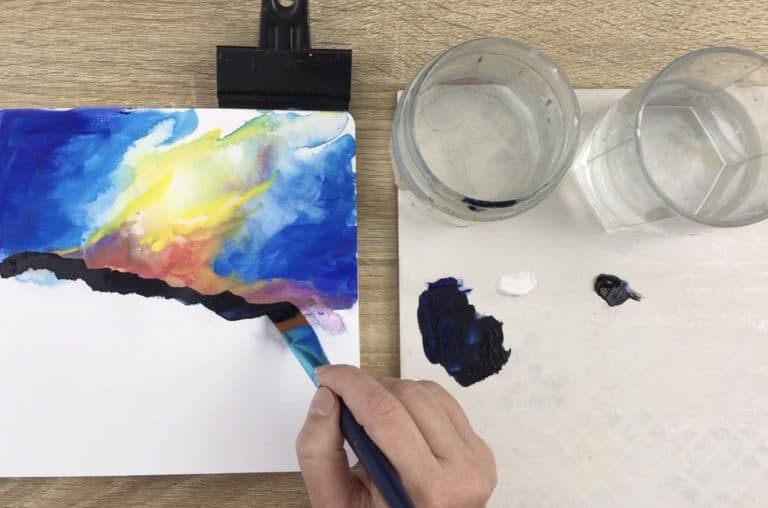 Make a mix of ultramarine blue and burnt umber to have a nice dark color that isn't black but a richer tone of dark.
Paint the mountain line with the edge of the flat brush, keeping angled shapes.
Painting the ground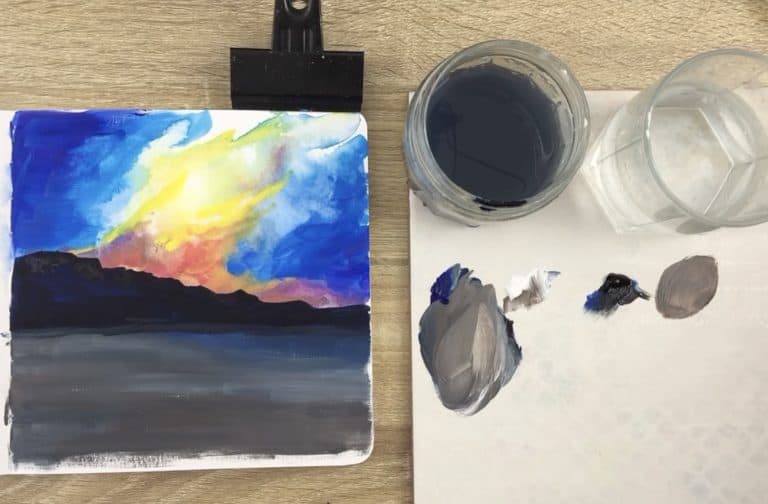 To show the difference with the mountains, this needs to be lighter. So add a tiny bit of white to a mix of ultramarine blue and burnt umber, going slightly to the blue. This part is in the shadow and has cool colors, reflecting the sky.
Then fill the ground, varying the colors in the mix, going a bit more brown, a bit more grey, to add variety to the shape.
Painting the cactus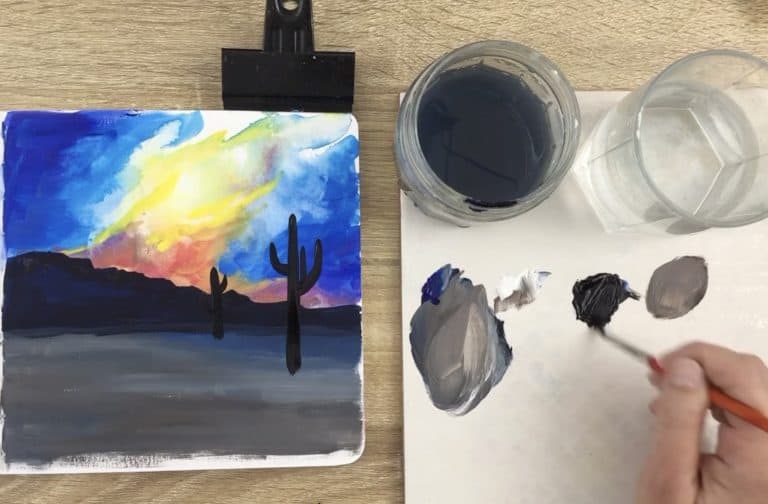 Now you can use plain black to paint the two cacti. This is when you may want to adjust the value of the mountain, as it needs to be slightly lighter than the cactus, so we can see it on top of the mountain.
I'm using a round brush for this part. 
Painting the grass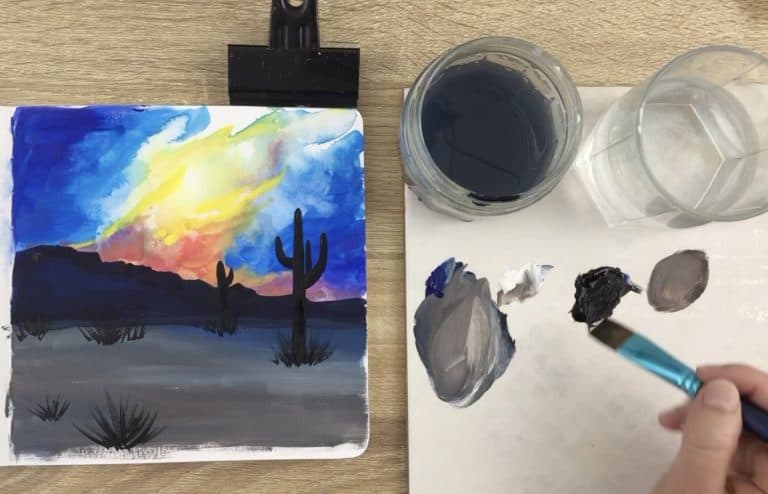 Still using the round brush and the black paint, but this time, dry your brush and use a very thick paint, without any water. You want to brush the paper so you leave rough marks. You can see more about gouache textures in this video. 
Do you want more?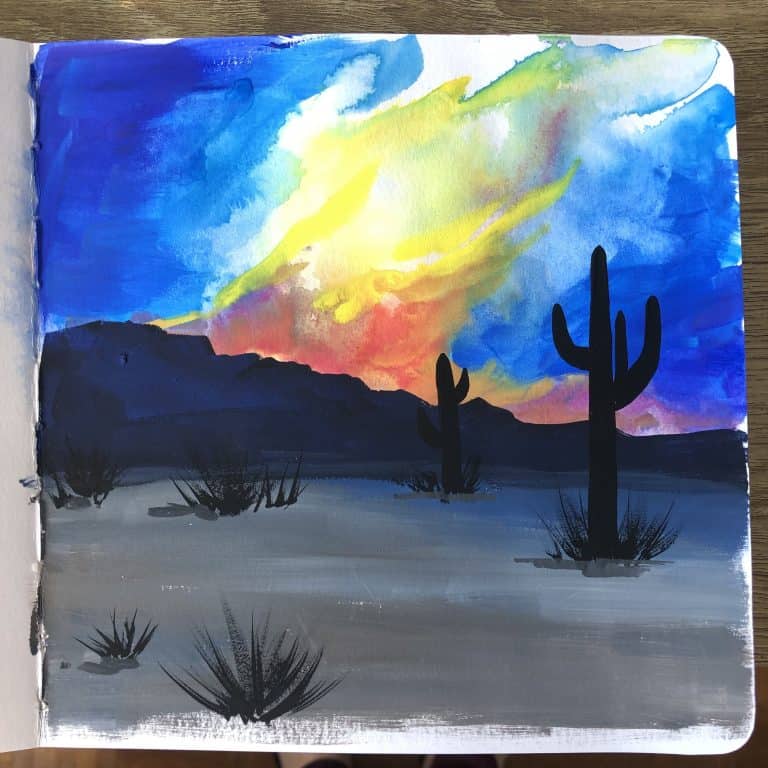 Here is the finished painting. 
You can get more step-by-step tutorials for gouache painting here in my workshop 'Fill your gouache sketchbook' with 15 tutorials.