Savor the Flavor with Gouache Food Painting Live Tutorials
I'm a passionate gouache painter. I've been exploring the vibrant world of gouache painting for years, and now I'm excited to share my experience and knowledge. If you're a beginner artist or even a seasoned painter, I'd love for you to join me as we delve into the captivating art of gouache food painting through my live sessions. 
Introducing the Gouache Painting Live Sessions: Food and Fruits—a bundle of 8 recordings from our live painting sessions on YouTube. These live paintings are no longer available on YouTube, only in a bundle of 8 tutorials, or included in my Membership.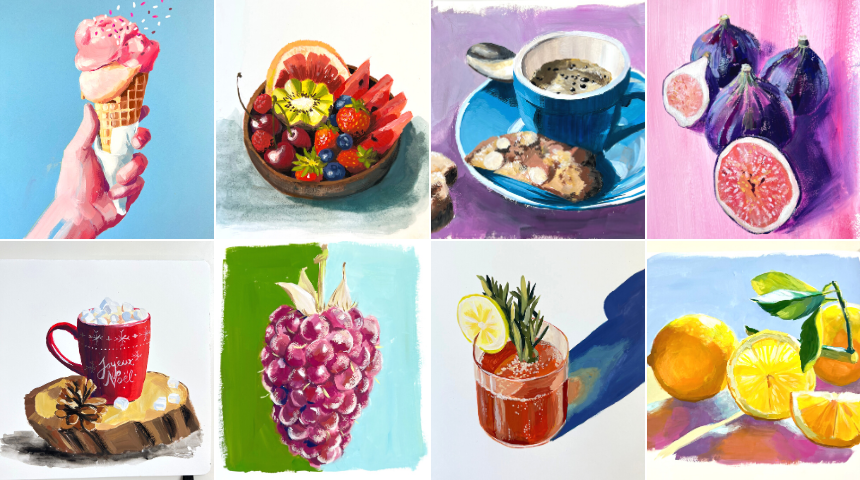 My Love Affair with Gouache Painting
I fell in love with gouache painting five years ago, and it has since become my favorite medium. The rich pigments and opaque, matte finish of gouache allow for incredible flexibility and control, making it perfect for detailed work and expressive, bold strokes. Gouache painting offers endless creative possibilities, and I'm thrilled to share this passion with you.
How My Live Sessions Can Transform Your Art
In my live food painting sessions, I strive to create a warm, supportive environment where artists like you can grow and thrive. They will help you improve your gouache painting skills, channel your creativity, and boost your confidence as an artist. I want to share my techniques and insights with you, so you can experience the joy and fulfillment I've found in gouache painting.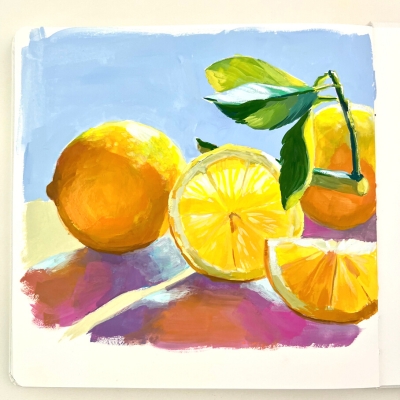 Key Techniques and Tips You'll Learn
During my live sessions, we'll explore various gouache techniques that you can apply to your artwork, such as:
Color mixing
Brushwork: You'll learn to use different brush strokes to add texture and depth to your artwork.
Consistency
Textures
Your Food Painting Journey
Throughout the live sessions, you'll have the opportunity to create mouthwatering food paintings that you can be proud of. From delicious fruits to delectable desserts, you'll be amazed at the realistic and captivating artwork you can produce by applying my teaching techniques. I can't wait to see what you create!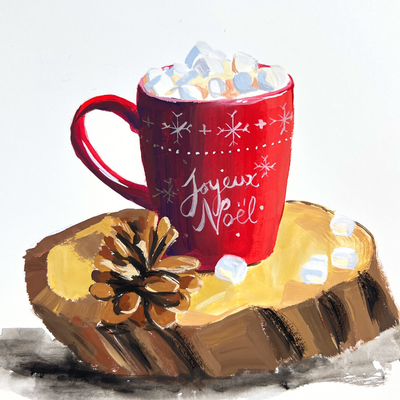 What's inside the bundle:
In this bundle of gouache tutorials, you'll find various food subjects to inspire and challenge your artistic skills. The collection includes:
a hand holding an ice-cream
a fruit salad
a cup of coffee
a mug of hot chocolate with marshmallow
a cocktail glass
lemons, figs, and strawberry
plus a bonus lemons tutorial, never published before.
I'll be adding more as I paint them.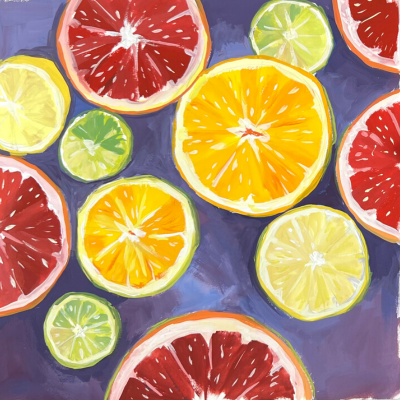 Addressing Common Concerns and Questions
As an experienced artist, I understand you may have questions or concerns about gouache painting. Here are a few common ones that I've encountered:
Choosing the suitable materials: I recommend using artist-grade gouache paints to ensure the best results. Here are my favorite materials. 
Avoiding common mistakes: Be mindful of water usage, as too much water can dilute the paint and compromise its opacity.
Staying motivated: Connecting with fellow artists, sharing your progress, and celebrating your achievements can help you stay motivated on your artistic journey.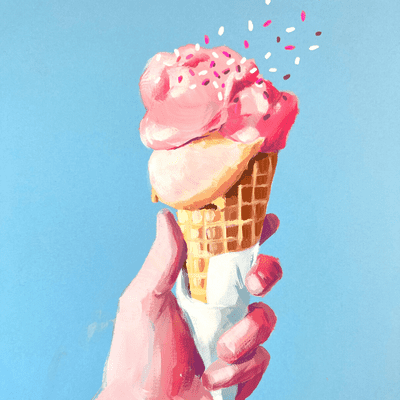 Conclusion
I invite you to join me in my live food painting sessions and experience the magic of gouache painting for yourself. By learning and applying the techniques I teach, you'll soon be creating stunning, realistic food paintings that will leave your friends and family in awe. So, why wait? Sign up for my live sessions today, and let's embark on this delicious adventure together!