Reading a Label on a Gouache Tube
The Complete Guide to Reading a Label on a Gouache Tube, because knowing what you're using for painting is important! And some information are crucial if you want to sell your art, or hang it on a wall.
Color swatch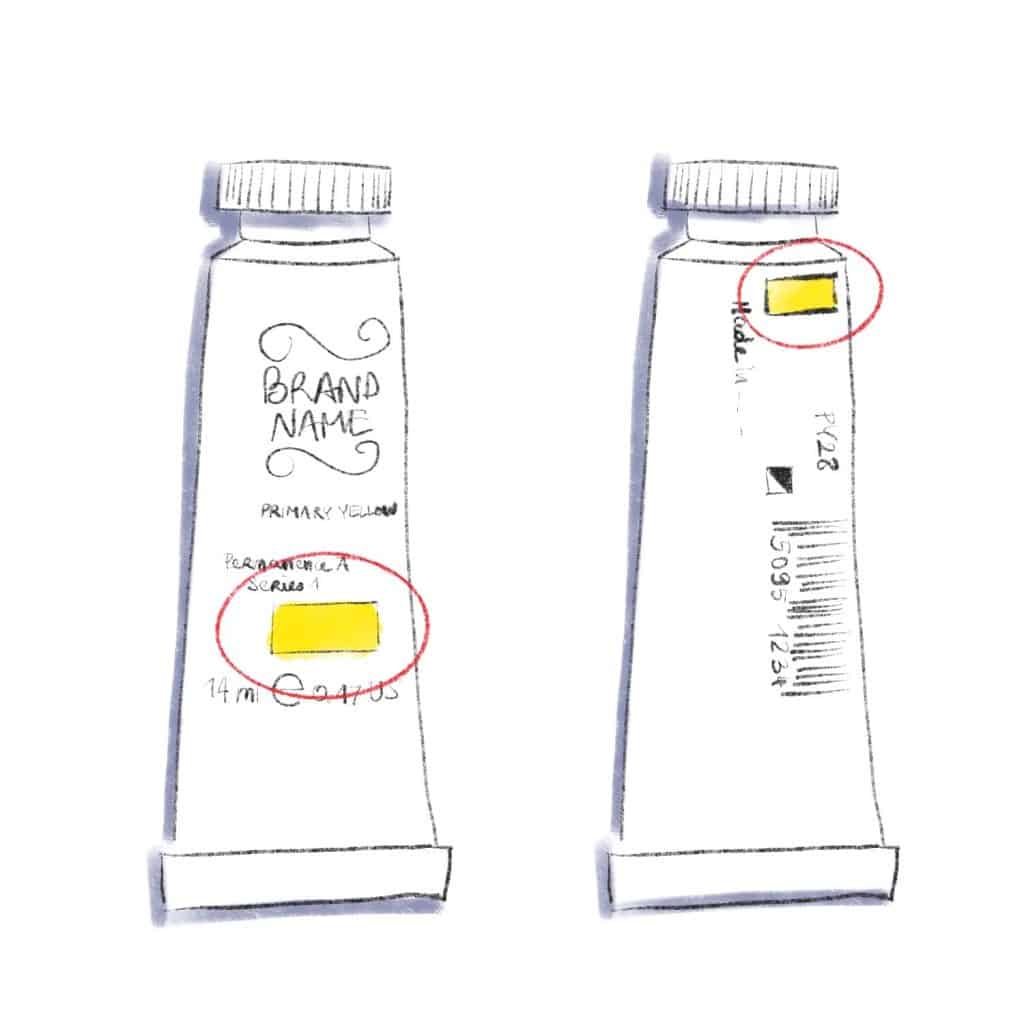 This is helpful to give you an idea of the color inside, but not enough.
On a metallic or plastic tube the surface is shiny and reflects light. This is printed with chemical inks. So what you get here may be quite different than the actual paint on paper. Especially with gouache, a matte medium that won't reflect the light.
When in an art store, open the tube to have a better idea of the color.
Brand color name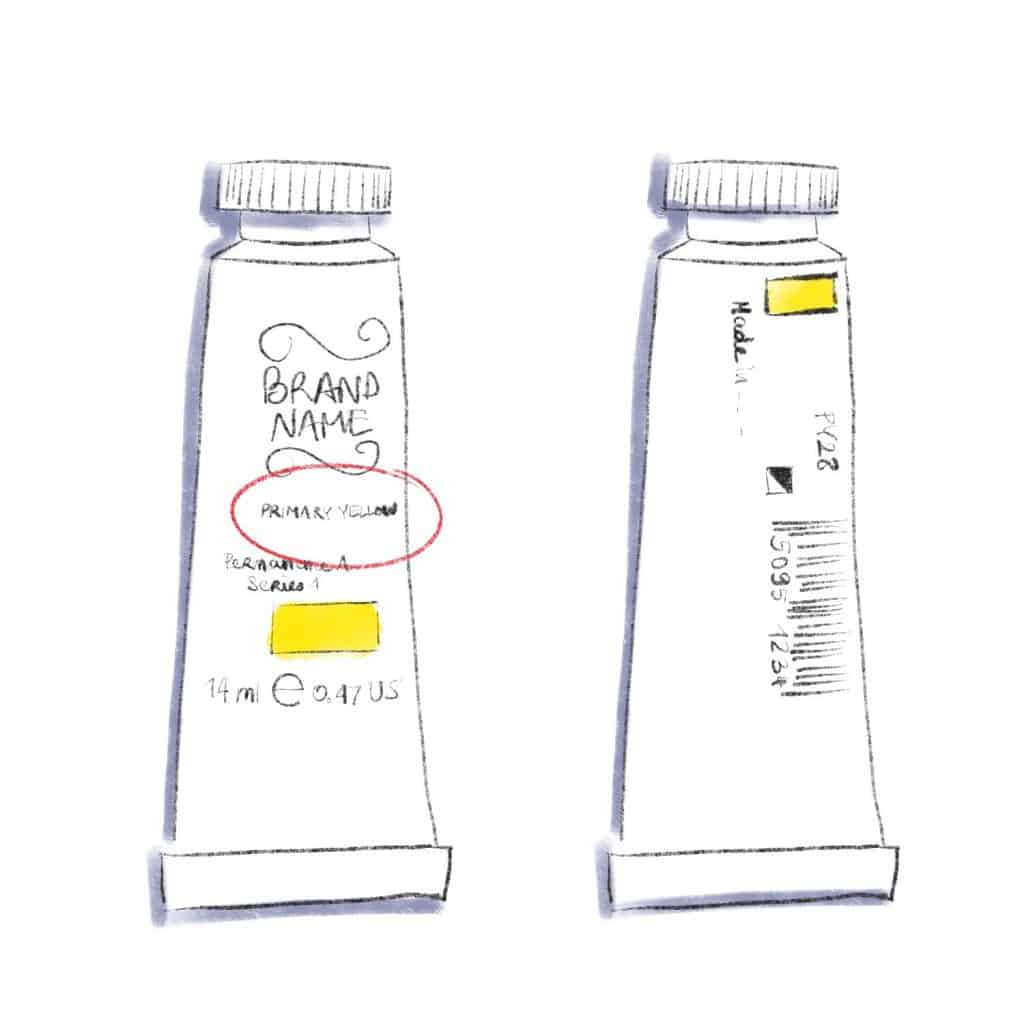 It's more a marketing name than a scientific one.
So, for the same pigment number (see below) you can get different names depending on the brands, and they are not always easy to figure out just with the name!
Lead red is not as explicit as Lemon Yellow for example. But Lemon Yellow can also be called Antique Lemon, Arylamide Yellow, Azo Yellow Lemon, Bright Yellow Lake, Brilliant Yellow, Cadmium Lemon Azo, Cadmium Lemon Hue, to name a few.
So, you should never trust the name in a brand and buy the same name in another brand, as it can be a different color! For example the name Magenta could be PV19 or PR122 or another pigment.
Pigment numbers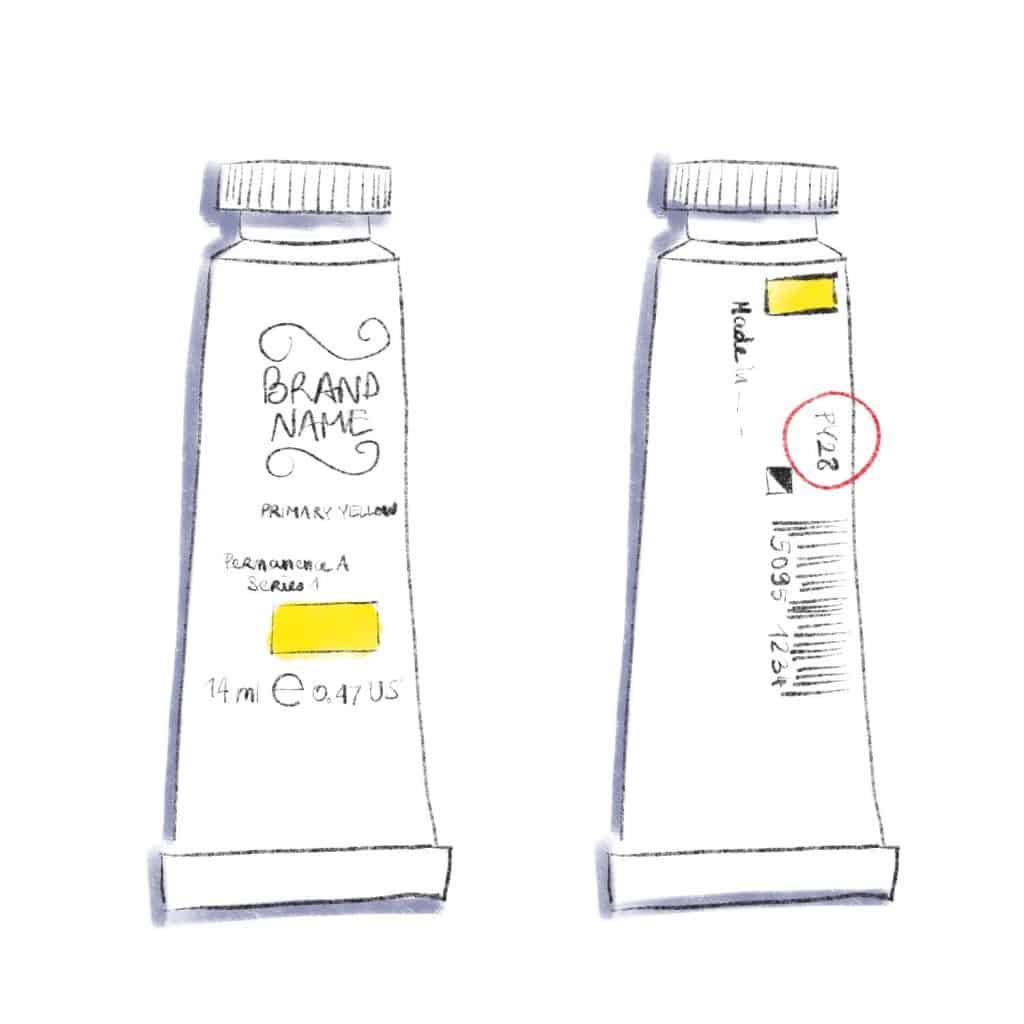 To be really accurate, you should check the pigment number, usually on the back of the tube. It's composed of two letters and a number. The letters are:
PY = Pigment Yellow
PO = Pigment Orange
PR = Pigment Red
PV = Pigment Violet
PB = Pigment Blue
PG = Pigment Green
PBr = Pigment Brown
PBk = Pigment Black
PW = Pigment White
PM = Pigment Metal
Then you have numbers that are the exact pigment used. You can find a complete pigment database here.
If I take Lemon yellow, the pigment code is PY3.
Sometimes you'll get tubes with a mix of pigments. For example PY83 PO43. You can tell it should be orange something as it's a mix of yellow and orange. If you love this color, you can buy a tube with the premixed colors inside or you can buy a tube of PY83 and a tube of PO43 and make your mix, but you're not sure to get the same proportions in your mix every time you need it. This is why it's convenient to buy ready-made mixes.
But mixes of pigments can be quite tricky to predict when mixed with another color, but it's another story!
Permanence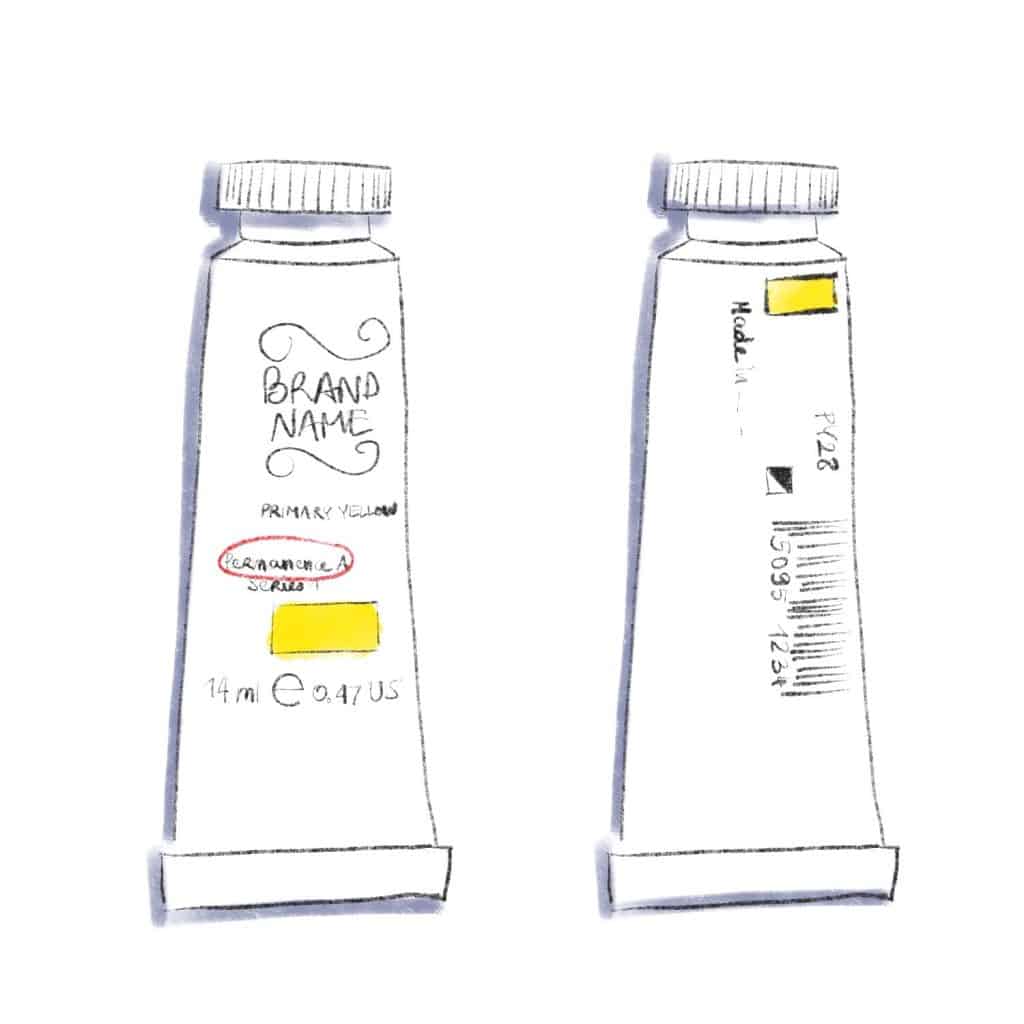 The permanence of an artists' colour is defined as 'its durability when laid with a brush on paper or canvas, graded appropriately and displayed under a glass frame in a dry room freely exposed to ordinary daylight and an ordinary town atmosphere'. (Says Winsor & Newton).
It seems to be used mainly by Winsor & Newton with letters, AA being the best one and C being a fugitive color.
Other brands use lightfastness, which is (quite) the same. See below.
Lightfastness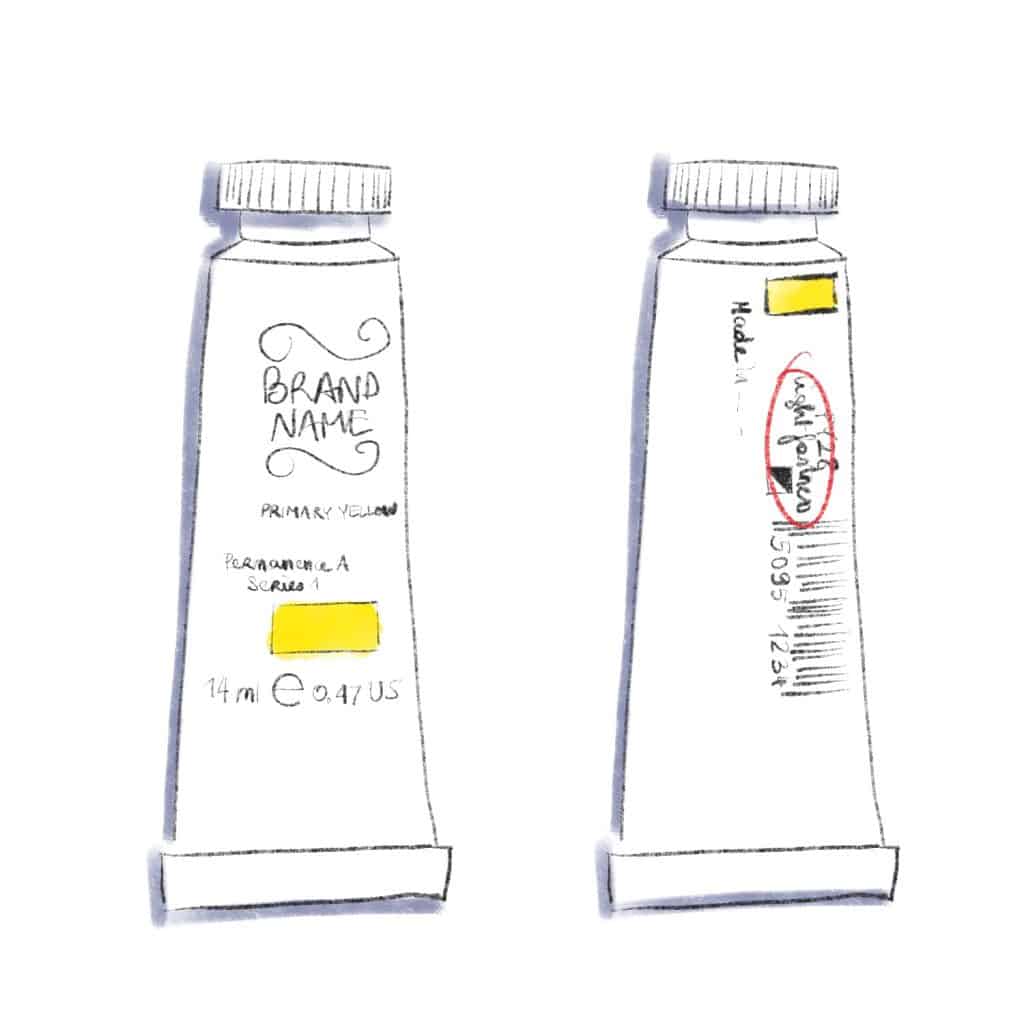 Basically, how long will the paint resist to light? Speaking of gouache, it's commonly framed under a glass, and if you get an UV resistant glass it may help. You can also use an UV resistant varnish.
Depending on the brand you may have stars, plus sign… Some have a maximum of four, other a maximum of three signs. It's quite confusing.
Beware of some pinks that are really fugitive, like Opera rose for example. It may fade within  weeks! So if you plan to sell your art, you'd better not use this one. 
Opacity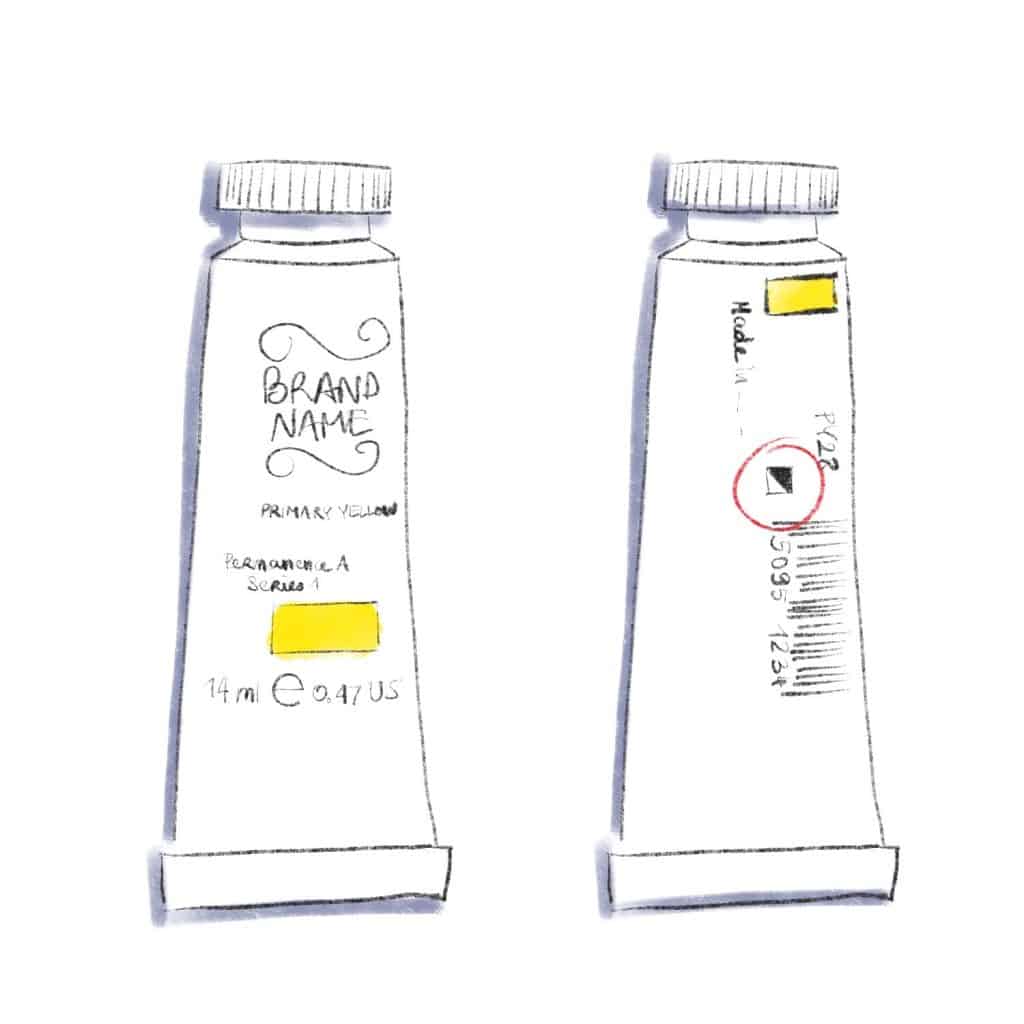 Usually it's a square
full square: opaque
half-filled square: semi-transparent
empty square: transparent (never saw a gouache tube with this one yet)
Very important to know before painting. If you like plain flat solid colors, you'd better check for a full square.
Series number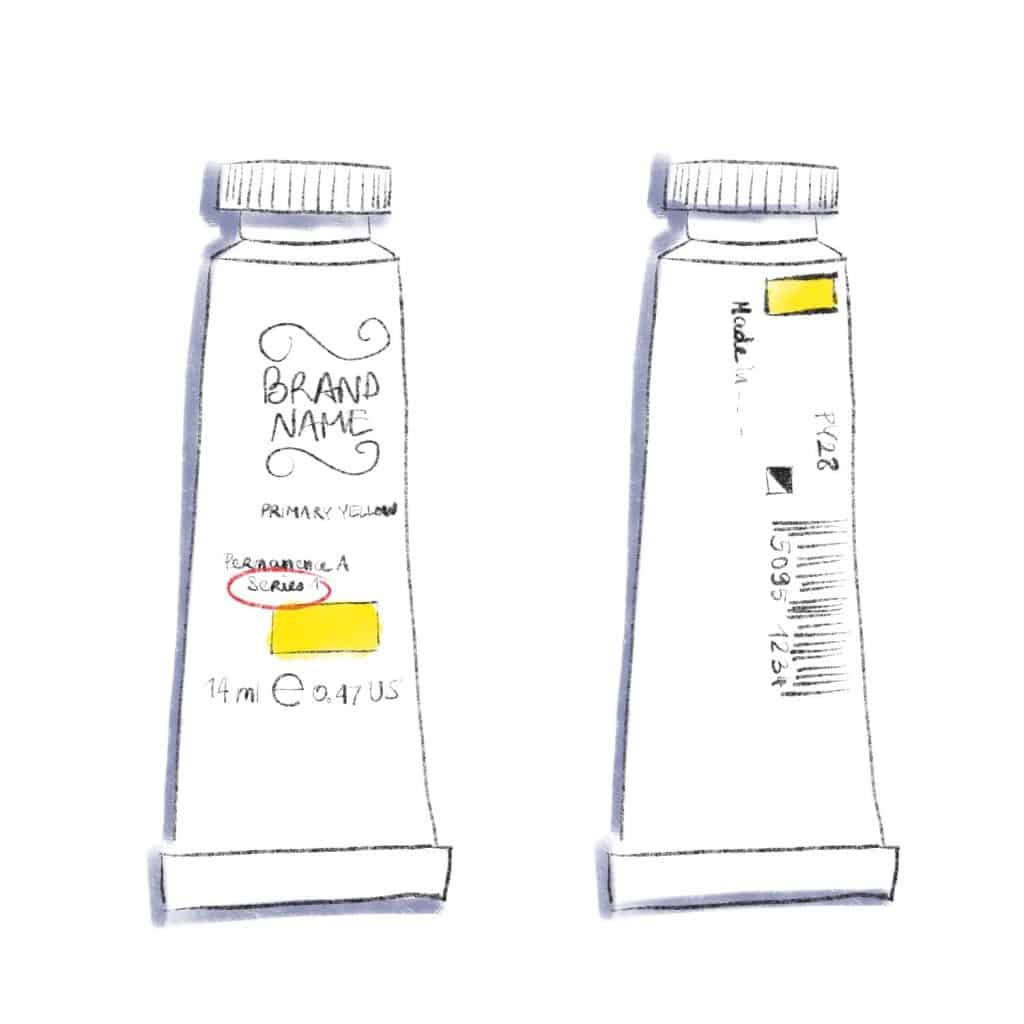 This one is about the pigments used. The more expensive the pigments, the higher the series, and the more expensive the tube.
Series 1 is the least expensive and Series 5 is the most expensive. Where there is no series column, this indicates the price is uniform across the range.
This is usually true for all brands with the same pigment. Cobalt are very expensive everywhere, for example and will go in series 4 or 5, and yellow ochre is inexpensive to produce and will be in series 1.
The series has nothing to do with the quality of the paint, no need to buy only series 5!
Capacity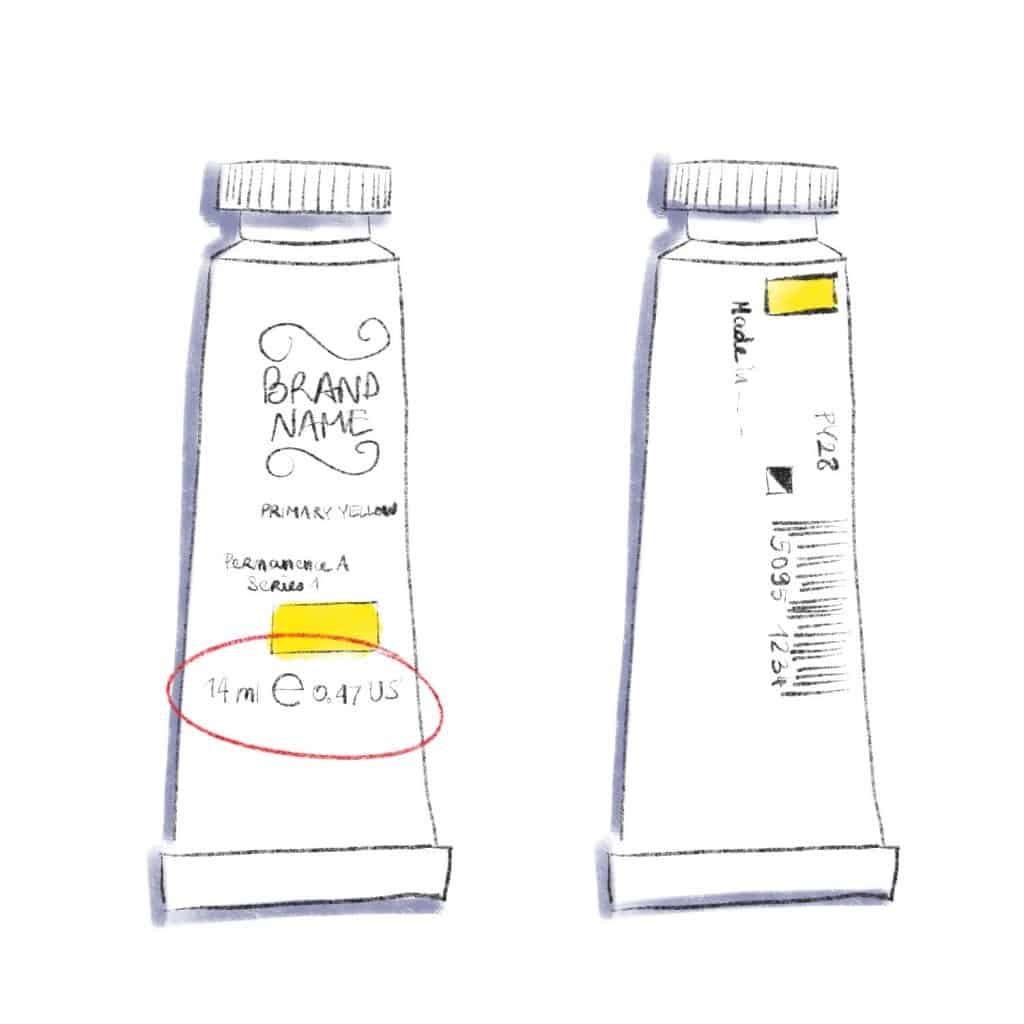 It speaks by itself. Gouache is going a long way, as it's highly pigmented, so you don't really a lot to paint.
But some colors are really useful and you'll need more than a small tube. Chinese or Zinc White is the one you'll need the most, so buy the largest one you can.
And depending on how much you paint, you may want to buy large tubes of ultramarine blue and burnt umber.
Standards compliance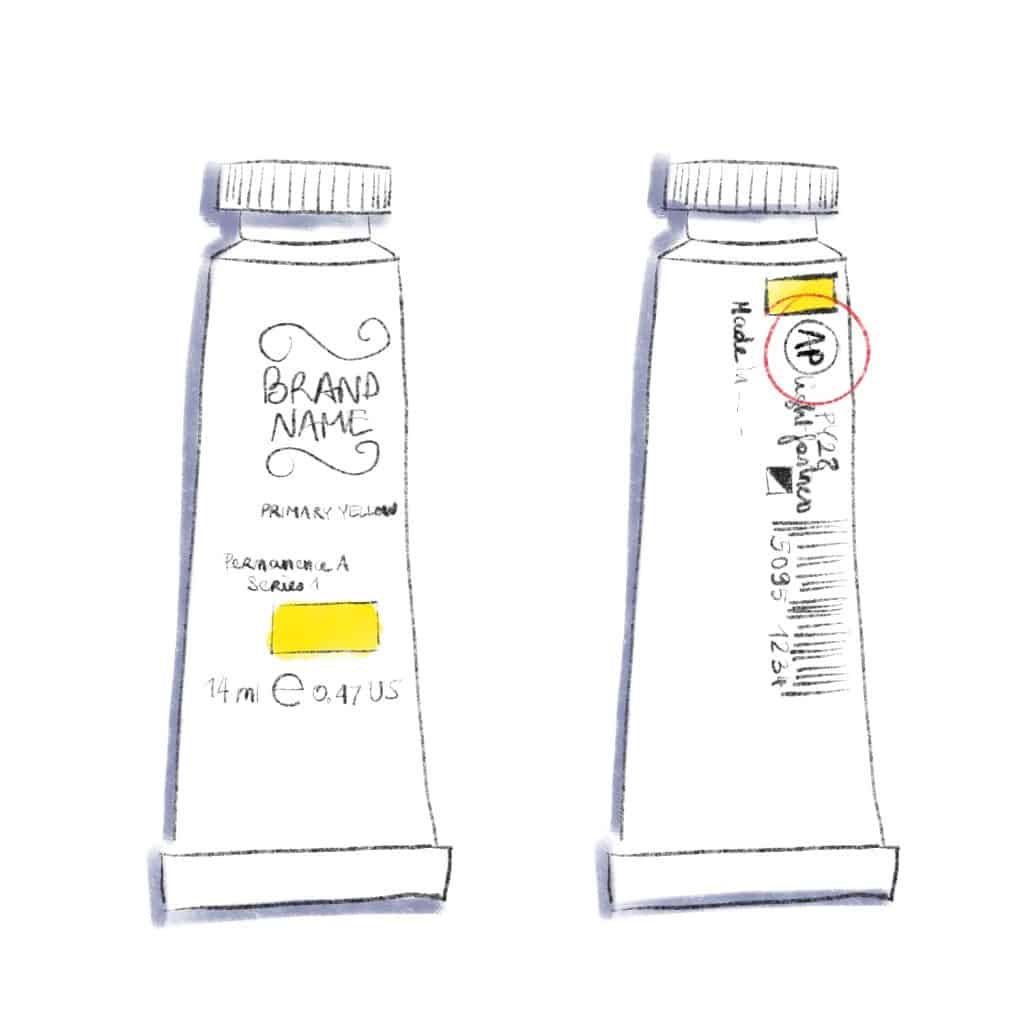 The ASTM abbreviation stands for the American Society for Testing and Materials. Almost all brands use it. Something like Conforms to 'ASTM D 4236 si written, meaning that any hazardous components are labelled, if any.
Then you have the ACMI symbol, a circle with AP in the middle. An ACMI Approved Product Seal on a paint label certifies that the paint is non-toxic both children and adults and "contain no materials in sufficient quantities to be toxic or injurious to humans, including children, or to cause acute or chronic health problems".
This is a voluntary label, meant for USA at first, you find it in a lot of brands now, including non-US ones.
I hope you found The Complete Guide to Reading a Label on a Gouache Tube helpful!