Painting portraits with gouache
Why Choosing Gouache for Your Painting?
Gouache is a water-based paint. It is opaque and has a high degree of transparency, which means that it can be used to create subtle washes. The opacity also means that gouache can be built up in layers with one color over another, giving the artist the ability to work with high contrast.
Gouache can be applied on top of other paints, such as acrylic paint or watercolor, without losing its own qualities. It adapts well to many different surface types. This makes it an excellent choice for mixed media projects or backgrounds for drawings and paintings, as it won't cover up the underlying colors.
Today I'll talk about gouache paints and why they are so popular among artists today.
The Benefits of Using Gouache for Painting Portraits
You can use gouache for sketching the portrait, using a matching color so it will blend with the rest of the portrait. You can also use a regular pencil, not too soft like 2H and the marks will disappear under the painting.
You can blend colors, make layers, use transparency for glazing. This will give a rich color in the end.
You can go back on top of the finished painting, reactivate it. This is very convenient for letting your painting sit for a while and make sure you're happy with it.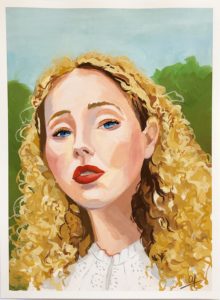 Before You Begin Painting Your Portrait – Preparation Tips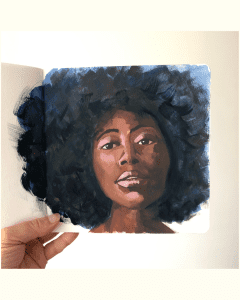 Choose your substrate:
sketchbook: convenient to have everything in the same place, but impossible to hang on a wall
paper: you can use whatever you want for this! Depending on your style and what you want to achieve: watercolor paper, regular drawing paper, colored paper, Kraft, newspaper…
Tape: you can tape the edges for a sharp clean edge. Don't forget to make tries with you couple paper/tape as some tapes work well on some paper.
Choose your color palette:
You need only 4 colors to make a great portrait, plus white.
Choose your brushes:
Depending on your style: flat brush, round brush, and a fine one for details.
Choose your reference image:
Unless you can afford having a model posing for you! Here you can learn everything about copyright free images for painting portraits.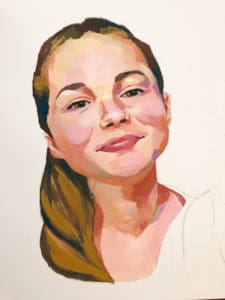 Painting Techniques for Successful Portrait Tones & Colors
The success of portrait painting has to do with the emotion communicated in the painting. A successful portrait should be able to communicate to viewers both the likeness of the subject and an emotion. But I would say that emotion is more important than likeness. After all, art is about emotion.
Successful portrait painting techniques are ones that use contrasting colors to communicate an appropriate mood. Other than using contrasting colors, it is also important that the artist considers how light will play on their color choices. When choosing a palette, it is best for artists to keep in mind what colors will work well together, since some colors clash while others look good next to each other.
Practice is key.
I wouldn't say practice makes perfect, because perfection is not something to achieve in art. But the more you paint the easier it gets.
The foundation is crucial: you really need to have an accurate drawing before painting! You don't want to spend hours on a painting from a wrong drawing, do you?
In Gouache Portrait Masterclass I teach 5 different ways to draw a portrait accurately, even if you're a complete beginner!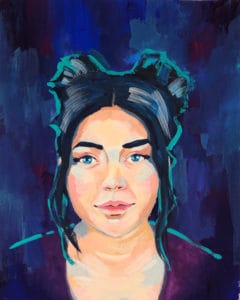 Conclusion: Painting a Portrait with Gouache is Easier than You Think!
It requires practice and method.
But, when you know how it works, you're able to paint any portrait you like, as gouache is so versatile! From very light painting like watercolor to mimicking oil painting, to bold brushstrokes, to soft blending… everything is possible with gouache!
If you want to become a gouache portrait painter too, you should follow Gouache Portrait Masterclass where you'll get all the information you need for painting portraits with gouache.