Can you use ink on top of gouache?
You can use ink on top of gouache. It's a great way to add an extra layer of interest to your art! I have been doing this for years, and it works great. You need to wait for the gouache to dry before drawing on top of it and use a waterproof pen. Not all pens are suitable, though.
Why use ink on top of gouache?
I love how ink can take your gouache painting to the next level, adding a new dimension and making it look more finished. Some intricate details like eyelashes, straight lines, hair or fur, etc., can be much easier to do in ink than in gouache, even with the smallest brush. You can also use colored pencils for an extra layer of texture with ink on gouache.
I recommend using waterproof ink.
Your ink should be waterproof because it will not bleed through the gouache. Plus, when you're applying ink, it won't smudge if you rub it with your hand (hello, lefties!). If you make a mistake with your pen and want to cover it with gouache, having waterproof ink will prevent it from being rewet and bleeding.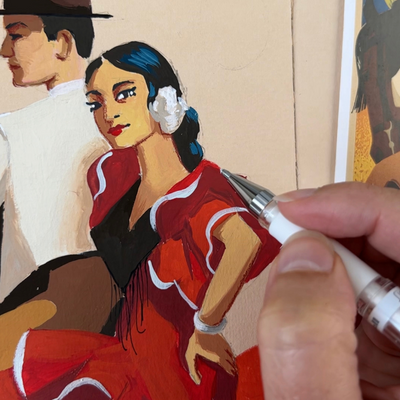 Check out the pen's lightfastness and acid-free.
You can find good permanent markers by looking at their lightfastness rating and whether they are permanent and acid-free. The lightfastness rating measures how much the pigment will fade when light exposure. When choosing a marker for gouache, look for one that has been rated as "maximum."
Acid-free markers are also helpful when working with gouache because these pens do not contain any acids in their ink that could damage the paper they're applied to over time.
You never know how long your art will last, so it's better to be safe than sorry!
Gouache has to dry between applying pen.
If you are trying to put ink on top of gouache, you must let the paint dry first. That's because gouache isn't waterproof like acrylic paints, and it will run if you don't wait to dry completely. If you try writing with your pen before the paint has dried, your pen will leave behind an ugly smudge instead of legible letters!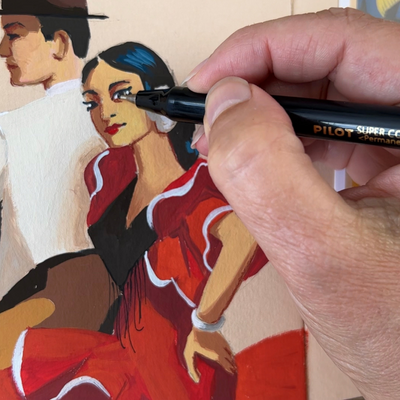 If you get your ink mixed with fresh paint, you can still fix this. Wait for it to be dry (and I mean it, at least 15 mn!), then cover with a layer of thick gouache to hide the bled ink. Wait again to dry thoroughly and draw again with your pen. An excellent way to test if your ink is dry is to look at it under intense light. And it should be matte, tap gently with your finger, and it should be spotless.
Choose the correct nib.
Pen nibs come in different sizes, shapes, and softness. Choose pens with rigid nibs, like acrylic markers or Micron pens. Gouache can clog the tip of your pen and make it difficult to use. If your pen does get clogged with gouache. I'm using these pens, that don't get (too much) clogged by gouache: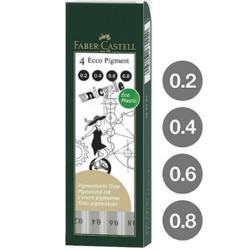 You can use more than pens.
You can use fountain pens and dip pens on dry gouache paint with waterproof ink. It works well if you apply them with a light touch, as the metallic nib can scratch the paint under. Many people use gouache as a mixed media, including acrylics and watercolors. It can also be used with markers and gel pens. But when using markers, make sure you don't use too much pressure on the nib, or else it will scratch through the paint.
Conclusion
Remember that if you want to be able to write or draw on top of it with a pen, you need to use waterproof ink and wait until the paint is dry. Gouache is an excellent medium for artists who want to experiment with different techniques. It's also very versatile and can be used on almost any surface, from paper to canvas.
You can watch this video where I'm using pens, colored pencils, and gel pen on top of gouache: