Are you a gouache painter looking for ideas for a gift? It could be your birthday or Christmas, or you may have a gouache painter around you, and you need to know what would be helpful for them.
I've covered you with these gouache supplies on three different budgets. If you want to get those gifts, you have a link to click and buy them directly. I will get a tiny commission to buy more art supplies by doing so. 
Table of Contents
Basic supplies common to all sets
Airtight palette
I have included the same airtight palette in every set because you need it. You cannot work with gouache without it, even if I know some people think it's useless.
When I squeeze gouache from a tube, I always squeeze too much. And when finishing painting, I have leftover paint on my palette that will dry.
Once it's dry, you can still reuse it, of course, but it will be more like watercolor. You won't be able to get back the creamy consistency of it, and this is why I am squeezing my paint in this airtight palette, so it's always creamy and fresh. 
Of course, the palette gets messy, but I'm a messy artist, so there's no problem with that.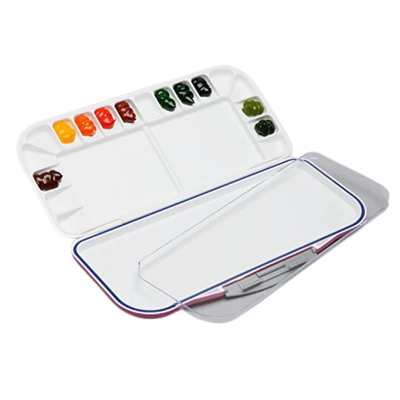 Sprayer
A sprayer is the most helpful tool you can get for gouache. Believe me; if you paint a lot, you need this to spray your palette. Whether you are using a regular palette or an airtight one, at some point, you'll have to squeeze your paint because it's drying. The ambient air is enough to get the gouache to dry, and if you want to keep it fresh and easy to maneuver, you need to spray it from time to time to get the pigments to flow everywhere.
Budget 1
Gouache paint
For this first set, I included Himi gouache paint. I have a kind of love-and-hate relationship with Himi. It's not my favorite, but I know many people use it, love it, and do many things with it. And actually, you can paint with Himi gouache, it's just that blending can be challenging. 
Don't get fooled by the price because it might look pricey. But you have 18 colors in large wells, so you have a massive quantity of gouache paint, and if you store it in the fridge, you will get it fresh for a long time. Just spray it from time to time. 
Sketchbook
I have chosen a sketchbook I have yet to use for this set. I tried to find the best one for the lowest price: 300 gsm and enough pages. And this one is a good bet for the price. 
Brushes
For gouache painting, you don't need specific or fancy brushes. You need flat brushes: large, medium, and small. And two round brushes, one large and one small. I have a brand I love, but it's French, and it's a bit difficult to find abroad. So I have chosen a different set that is less expensive and comes with just what you need to paint with gouache.
I think that brush is only one of the essential things in gouache. The most important thing is first the paint, obviously, and second the paper, and three, the brushes. So this is why taking a small set is no big deal; you could even get some school brushes that would do the job.
Budget 2
Gouache paint
This set is what you need if you want to be serious about gouache because Himi is okay, but if you want to go further and get excellent results, you need artist-quality paint. There are a lot of brands out there, but this one is highly pigmented, creamy, and soft. I love working with it; you can paint a lot with a tiny amount.
You only need to buy an extra tube of white because white is the color you will need the most. I've already tested Holbein gouache paint, and you can learn more here. This is the gouache paint I use daily.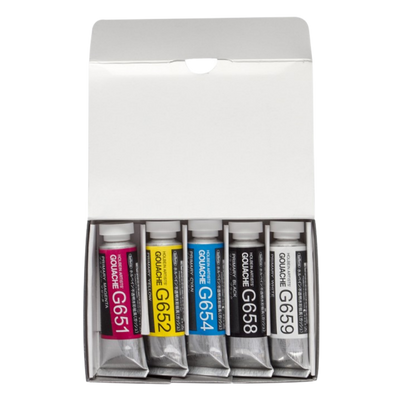 Sketchbook
When it comes to sketchbooks, there are several things that I'm looking at. Is it opening flat? It's essential when working in a sketchbook, especially if you want to work across two pages.
For gouache, I like to have at minimum 200 GSM and best 300 GSM and not too much texture. If you want to go into details with watercolor cold press paper, for example, you will have trouble because the bumps in the paper will be in the middle when you are painting with it.
I love this sketchbook and have already filled four or five of this particular one. It's a Stillman& Birn, and I especially love the square one. Please don't ask me why, but you're welcome to choose another size. 
Brushes
Here is a set of flat and round brushes, synthetic hair, with a soft handle, and no compromise on quality.
Budget 3
Gouache paint
Staying in the Holbein family, you have this set of 12 colors. I know you can do everything you need with just five primaries, but if you paint a lot as I do, it's easier to get ready-made colors, so you can save time on mixing.
The accuracy of color is one of the gouache's weaknesses because you will never be able to get the same mix if you do it on different days. Having ready-made colors is an excellent way to have more colors and fun. 
Sketchbook
I have chosen a large sketchbook because you have a ton of paint, so you have to fill large pages. It's a Strathmore, A4 size, 300 gsm. It's watercolor paper, and we have a soft texture, but not too much. You can do many things inside: gouache, watercolor, ink… It's a large one, so you can get a smaller one if you prefer, as it might be overwhelming to have a large sketchbook like this one.
Brushes
For the brushes, I'm using Etchr's ones. They are meant especially for gouache, and they come in a handy little pouch where you can go Plein air with it. You have everything you need: flat brushes, small brushes, large and small.
It's a bit pricey, but they are great. They clean easily and don't bend when you let them in a jar, even if you really should not do that at all!
Membership
You may already have all those supplies or are ready to buy them and need to use them. My membership is a perfect gift for gouache painters because we work mainly with gouache and watercolor. It's the ideal way to learn gouache, drawing, and composition, find your voice and express yourself. Because the technique is one thing, being able to paint what you have on your mind is another thing.