Realistic portraits with alcohol markers
In this class I will show you a simple technique to achieve realistic portraits with alcohol markers. This technique is surprisingly simple, all you need is the right colors in alcohol markers.
'Realistic portraits with alcohol markers' class is available on my website.
I'll discuss the markers you need, and they are not as expensive as you think.
Then we will make some tries to find a good paper; I'm sure you have already some at home!
Let's make some mixes and gradients to know how it works and master the markers.
I'll discuss how to choose the colors for your portrait and provide the references of all the markers I used during the class if you want to follow along exactly.
I provide a copyright-free reference image to follow along, and you're welcome to use your personal photo as well.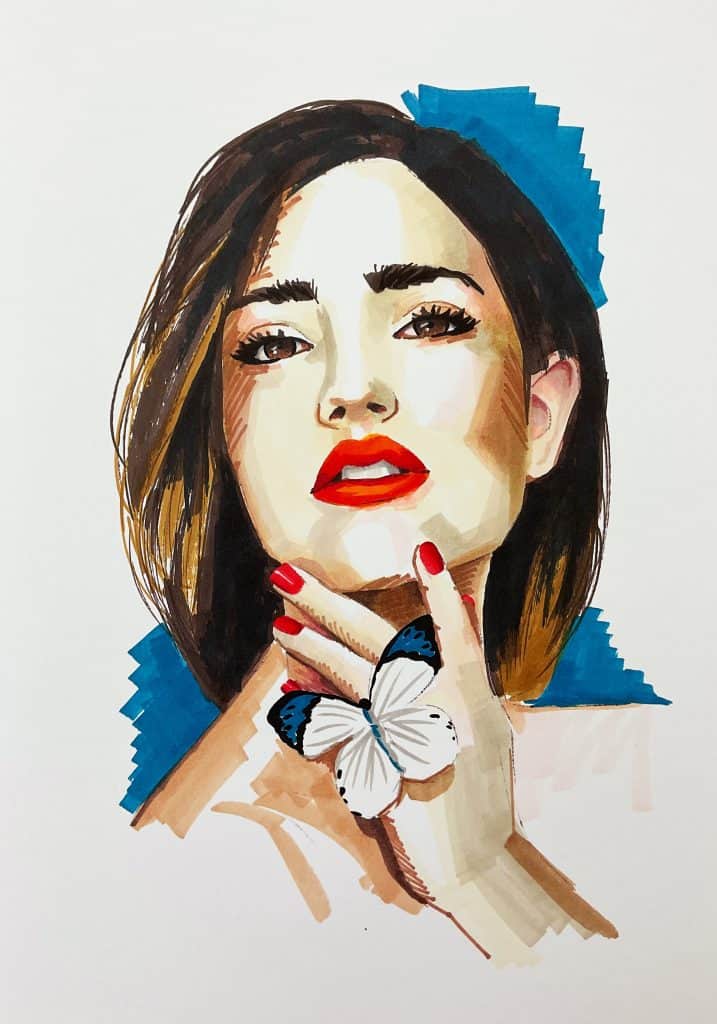 As it's a class about markers and not about drawing, we will be tracing the image for a faster result. And no, tracing is not cheating! It's just using modern tools.
I'll detail step by step, in real-time, all it takes to achieve the portrait by coloring the face, hair, eyes, mouth, and hand.
Then it's time to select the colors of the sweater and background and apply them.
And voila! with the Realistic portraits with alcohol markers class, you're ready to paint many portraits!
What students say about the class:
Michelle
This really motivated me to pick up my markers again and try this beautiful loose and strong-looking style.

Vanessa
Another great tutorial. I watched it all the way through and it has encouraged me to invest in the two sets of markers. Once the markers arrive I will watch through all the lessons again. Cecile is a very inspiring teacher.