The Lightest Gouache Travel Sketchbook Kit
Are you looking for the lightest and most convenient way to pack gouache for your travel sketchbook? In this article, I'll share my tips and tricks for creating the lightest gouache travel sketchbook kit that fits easily in your backpack, perfect for artists on the go.
Table of Contents
Why Travel Sketchbooks?
Travel sketchbooks hold a special place in my heart. They bring back memories of the people I've traveled with, the cities I've explored, and the beautiful architecture and surroundings I've encountered. I take a lot of photos too, but nothing can compare to a drawing/sketching/painting you made during your trip!
Whether you create your sketchbook on-site during your trip or after you've returned home, it's all about capturing those fun memories and immortalizing them through art. I have an entire class on the topic if you want to learn more about creating a travel sketchbook. 
Building the Perfect Gouache Travel Kit
When creating a gouache travel kit, I wanted something lightweight, portable, and easy to use. After trying different options, I found that using dry gouache was the easiest solution. Daniel Smith's gouache, in particular, works great for this purpose, as it re-wets well once it's dry.
The Palette
I found this adorable little metallic, magnetic palette with a secure lid perfect for holding my gouache paints. It's tiny, but it's the perfect size for travel. I filled it with Daniel Smith gouache and a few other brands like Holbein, Pébéo, Winsor & Newton, and Turner.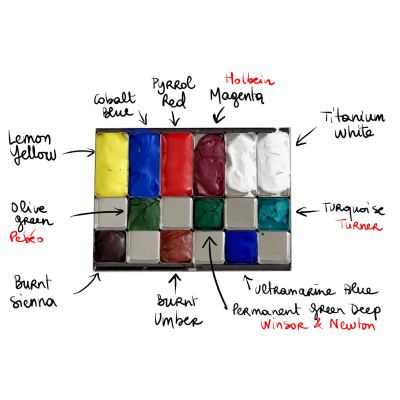 The Brushes and Accessories
I prefer using water brushes, as they're convenient and don't require carrying water with you. It might take some time to get used to it with gouache paint and not squeeze too much water at a time. I also carry a Criterium pencil (no sharpener needed), a kneadable eraser (so you can remove the excess graphite before painting), and a Faber Castell waterproof pen that works well on gouache without clogging the nib.
The Sketchbook
My sketchbook is a small Stillman and Birn Zeta series, perfect for mixed media, and opens flat for easy painting. I also use a little clip to keep the pages in place while I work.
Packing It All Up
These supplies fit neatly into a small pouch that attaches to my backpack. The entire kit weighs only 387 grams, making it perfect for artists on the move.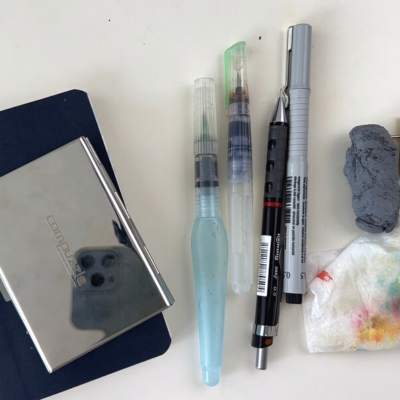 Testing the Travel Kit
Before hitting the road, it's essential to test your travel kit to ensure everything works well together. Some of the gouache paints crumbled a bit when dry, but overall, they reactivated nicely with water. The water brushes worked well but be prepared to use a lot of water and have tissues on hand for cleaning.
Ready for Adventure!
With my gouache travel kit complete, I'm excited to embark on my next art adventure. I hope this blog post has inspired you to create your travel kit and capture your memories through art. And if you want to connect with other beginner artists and receive guidance on your art journey, consider enrolling in my art classes and membership. Happy painting!