How much cost gouache paint?
I'm a professional artist and art teacher using gouache daily for years. I always get the same question: 'How much does gouache paint cost?' I will compare 11 gouache brands that you can buy online, individual tubes, and artist quality grades.
The method used to compare gouache brand prices
Gouache colors
I've made a set of colors, as I would buy for myself.
White for mixes, either zinc white or Chinese white, not Titanium
cool primaries
warm primaries
no black, you don't really need one as you can mix it yourself.
You could buy only cool primaries and white, which would do everything. But it would be more complicated to begin. Different brands have different names, so I've enclosed the name for each color in each brand.

Gouache prices
I've been checking prices on Amazon, DickBlick, and Jackson's websites. I compared the prices on different websites, which was pretty consistent when possible. Although, depending on where you live and if you have a discount, prices may (and will certainly) be different. So take this with a grain of salt. All prices are in US$, dated July 2022, updated May 2023 for Daniel Smith gouache.
I've added the price for individual tubes and the complete set. Beware not to get fooled because brands have different capacities. For example, the set for Da Vinci Paint is one of the most expensive as they have 37 ml tubes, but their price per 100 ml is the lowest. So I've translated the price per 100 ml for all brands. It's easier to compare.
---
Tube sizes vary from 14 to 37 ml
---
Gouache Brands
I'm only comparing brands where you can buy individual colors. I'm not a big fan of sets, as you really don't need all the colors inside, and you'll always use the same colors in the end. So it's better to buy primaries first. Later you can get one or two colors you love and mix them all the time.
I'm reviewing the main brands from my point of view. You certainly have local brands with different prices and different quality as well. I wanted to compare what most people can buy online. We have very good quality brands in France, like Linel, Pébéo, and Sennelier, but they can't be easily found outside France.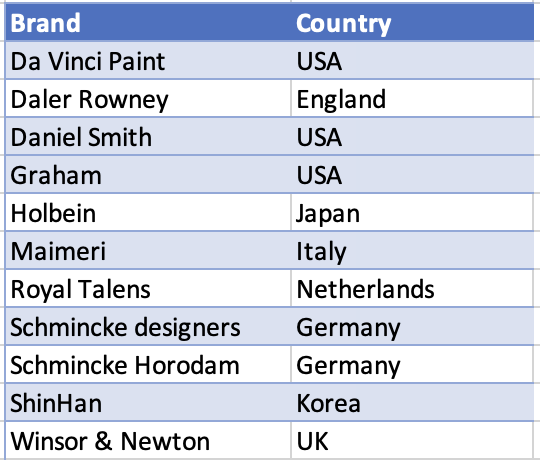 Gouache Quality
I'm reviewing only artist or designer quality grades, depending on each brand's marketing. It's supposed to be 'finest', 'extra-fine', or any other name they want to give it. But it's not student quality, where pigments are weak and lightfastness uncertain. I want my gouache paintings to last and flow easily.
I'm looking for pure gouache (not acryla gouache, acrylic gouache or whatever you want to call it, which is not gouache, but acrylic). And I'm comparing only tubes, not pans.
Disclaimer
This is a review of prices only, not the paint itself. I cannot review all brands available on the market, I just made a review of Holbein. This should give you a pretty good idea if budget is your main concern.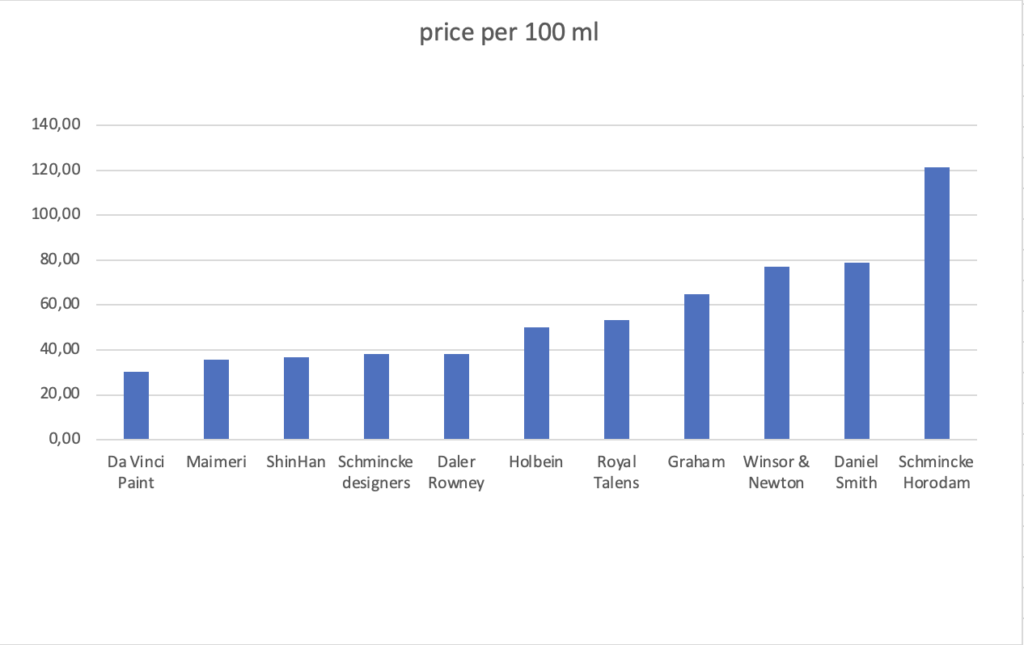 This table shows prices range from US$ 30 to US$ 121 for 100 ml of gouache paint. That's four times more expensive! If you want to save money with your gouache paint, you should consider buying gouache paint sets, but be careful. They're not always a good deal!
You'll find some insights here to understand why gouache is so expensive per 100 ml. But as gouache is highly pigmented, you don't need much paint to go a long way!