Choosing the Perfect Sketchbook for Urban Sketching
Hey there, fellow sketchers! Urban sketching is a fun and popular activity for both pros and newbies. But choosing the perfect sketchbook can be tricky, right? Don't worry! In this blog post, I'll share my personal experiences with 12 different sketchbooks and their cool features, making it easy for you to pick the best one for your urban sketching journey.
I have used and still use different sketchbooks suitable for urban sketching. It can't be exhaustive, as there are so many options, but it's a selection of a dozen. They all open flat and have acid-free paper. You can find a table with all the features at the end of the article: paper type, weight, color, texture, binding, size, orientation, cover material, number of pages, ribbon, elastic band, pocket, the weight of the sketchbook, country of origin, price, and link to buy it. 
The list below is in the order of the video where I review each of them.
Table of Contents
Hahnemuhle Tone Paper
This small, square format sketchbook is about the size of a hand and features tone paper, which comes in different colors, such as tan. Tan paper works exceptionally well with gouache; the colors pop out beautifully. However, watercolor may be more challenging to use on this type of paper, as it's not explicitly designed for watercolor (even if the brand says it's watercolor paper). You may experience harsh lines and cauliflower effects. 
Key features of this sketchbook include a ribbon bookmark, an elastic band to keep the sketchbook closed, and a hardbound cover. This sketchbook is ideal for those who primarily use gouache and markers.
Clairefontaine Sketchbook with Fabric Cover
The Clairefontaine Etival watercolor sketchbook is a French brand that may be difficult to find in some countries. It features a fabric cover that you can paint or customize to your liking. The paper is relatively white, making it suitable for various media.
This sketchbook has an elastic band and a small pocket for storing miscellaneous items while urban sketching. They sell it with postcards at the end to paint, but the size is so weird that you won't be able to use them.
Although I haven't used this particular sketchbook for urban sketching, it's worth considering if you can find it in your region.
Clairefontaine Goldline Sketchbook
Another Clairefontaine sketchbook, this one is easier to find. The paper is not the heaviest but suitable for urban sketching. If you use a lot of water, the paper will buckle and warp, but you can l like this style. What I don't like about this paper is the change of texture. One side is very smooth; the other has a texture that is not parallel to the edge of the sheets. I'm being peaky here, but I like having nice materials when working. 
Although it's a good entry-level sketchbook, and as it's not expensive, you may use it a lot without thinking twice. It's available in different sizes, providing more options for artists with varying preferences.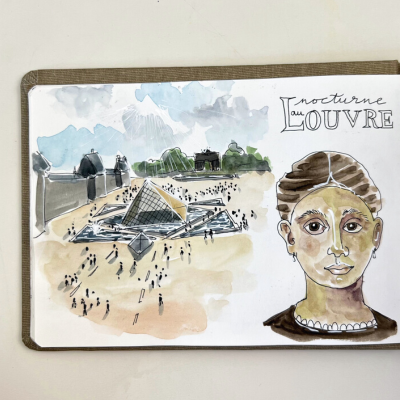 Stillman & Birn Beta Series Sketchbook
The Stillman & Birn Beta Series Sketchbook is another excellent option for urban sketchers, particularly those who work with mixed media, as the pages are 270 gsm. 
The paper's surface is cold-pressed, providing a slight texture that many artists find appealing. With its versatility and high-quality construction, the Stillman & Birn Beta Series Sketchbook is popular among urban sketchers. 
But as the cover is hardbound and the paper is heavy, it's not the lightest sketchbook, and you may consider this when carrying it all day!
Arteza Watercolor Book
This one is spiral bound, and it has its ups and downs. I'm not a huge fan of spiral bounds, so I only have one.
The plus side is that it opens flat, making it easy to draw. However, you can't create a spread across two pages because the spiral gets in the way. This particular sketchbook has watercolor paper (300 GSM) which is excellent quality but also perforated, which may only be the most convenient for some. Plus, it's the heaviest sketchbook in my collection, so keep weight in mind when planning to take it outdoors!
Clairefontaine Paint'on Sketchbook
I have not used it for urban sketching but for the Garden Challenge, so I have tried different mediums inside. It's a tan paper, which is interesting for opaque mediums like gouache or markers. The paper is very smooth and colored, so it's not the best for watercolor. The pages are 250 gsm, so they can handle a lot of water.
The elastic band is weird in the middle of the sketchbook and not as convenient as the side one on other sketchbooks.
Strathmore Series 400 Sketchbook
The sketchbook cover is super soft and flexible, but it's not hardbound. This can make it tricky to use on your lap or other unstable surfaces. However, the paper is top-notch – it's 300 GSM and has a unique texture that's not quite hot or cold-pressed.
This texture works beautifully with colored pencils and handles watercolor like a champ! So, if you're into heavy watercolor painting, this one's for you. Remember that it doesn't come with a ribbon, elastic band, or pocket due to its soft cover. 
Seawhite Landscape Watercolour Travel Journal
The Seawhite Landscape Watercolour Travel Journal is a fantastic option for outdoor sketching. It's hardbound with a soft cover, and it comes with an elastic band, a ribbon, and a spacious pocket for storing all your collected treasures while you're out and about.
This sketchbook works exceptionally well with watercolors. I've used watercolor cakes and watercolor pencils in it, which handles them beautifully. The paper has a pleasing texture that adds a nice touch to your artwork. 
If you're looking for a reliable and versatile sketchbook for your outdoor adventures, try this one! It's in my top three!
Hahnemuhle Nostalgie Book
This series is called Nostalgia Sketchbook, and it has no tooth at all. It is a smooth paper. So if you like smooth, this is the one for you. The one I have is portrait orientation. You can get it in the landscape as well. It works well with gouache and markers but not so much for watercolor because it has no tooth.
Hahnemuhle Watercolor Book
Let me introduce you to the Hahnemuhle Watercolor Book, which has a slight tooth and a very cold-press finish. It works well with watercolors.
It comes with an elastic band and a ribbon but doesn't have a pocket. Consider whether having a pocket is essential for you before choosing this sketchbook.
Moleskine Watercolor Sketchbook
The Moleskine Watercolor Sketchbook is a popular choice among urban sketchers. The sketchbook features a hardcover, an elastic band, a ribbon bookmark, and a pocket in the back for storing loose items.
The paper in the Moleskine Watercolor Sketchbook is cold-pressed, providing a slightly textured surface. The paper is 200 gsm, which is not much for watercolor, so you can't go very wet inside. 
And really, I don't get the hype about Moleskine Watercolor Sketchbook; the paper quality could be better, the texture is not parallel to the edges… and it's so expensive!
Daler Rowney graduate sketchbook
Daler Rowney Graduate Sketchbook: Light and Quick
The Daler Rowney Graduate Sketchbook has quite a thin paper, at just 140 GSM. This means it could be better for watercolor, as the paper may warp or buckle. However, it has its advantages! 
This sketchbook is incredibly light, making it the lightest one I own. With only 20 pages, it's easy to fill up quickly – you could complete it in a week or even half of it during a weekend trip. This makes it an interesting option for those who want a dedicated sketchbook for short trips. 
While it may not be the best for watercolor, its low price makes it a low-pressure sketchbook, perfect for casual sketching without the fear of wasting expensive materials. Give it a try and see if it fits your needs! 
Stillman & Birn Zeta Series
The Stillman & Birn Zeta Series sketchbook comes in various sizes and orientations, from small to large and landscape to portrait. I adore the small version – it's so cute and fits right in my pocket! 
The paper in this sketchbook is extremely white, making colors pop. However, it has no tooth and is very smooth, which may not be the best choice for watercolor enthusiasts. Despite this, the paper is heavy and sturdy, weighing 270 GSM. 
You can use wet mediums on this paper, but if you're solely focused on watercolors, there might be better choices. The colors tend to sit on the surface rather than diffuse well into the paper. Still, it's a fantastic sketchbook to consider for other mediums!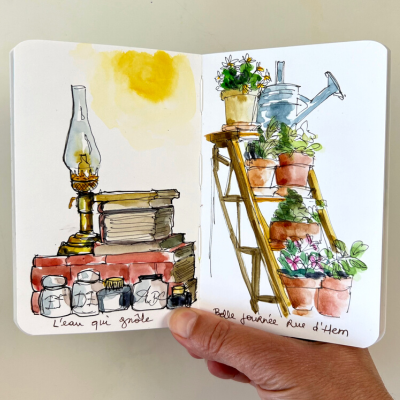 My Top Three Sketchbooks for Urban Sketching
Selecting the perfect sketchbook for urban sketching is a personal choice, and it's essential to consider your preferred media and sketchbook features. 
My top three sketchbooks for urban sketching are:
Daler Rowney Graduate Sketchbook: This sketchbook is light, easy to fill, and perfect for a quick, no-pressure sketching session. It's an excellent choice for weekend trips when you want to capture the sun and your surroundings without worrying about perfection. 
Hahnemuhle Watercolor Book: I love the tooth and white paper in this sketchbook. While it doesn't have a pocket, that's not a crucial factor for me. The elastic band is more important, as it helps keep the sketchbook protected inside my bag. If you're a watercolor enthusiast, this one is worth considering. 
Seawhite Landscape Watercolour Travel Journal: This journal has it all – a pocket, a ribbon, an elastic band, and the perfect tooth for the paper. It's a fantastic all-rounder, especially for those who love working with watercolors while traveling. 
Each sketchbook offers unique features, so choose the one that best suits your artistic preferences and needs! And if you need to learn how to urban sketching, I have a complete class about this topic!
Here is a table with all the features for each of the sketchbooks. The price is just an indication, as it may differ in your country.