Soft greenery with Procreate class
In this class, I'll show you how to make stylized greenery with Procreate from start to finish. The class is available on Skillshare, and you can get a 14-day free trial with this link. And you can get the class on demand here as well.
This class is very detailed, with step by step instructions, perfect for beginners who want to master a bit more the Procreate app. I'll walk you through clipping mask, blending mode and layers. I provide a free brush to achieve this fluffy textured look, and three color palettes.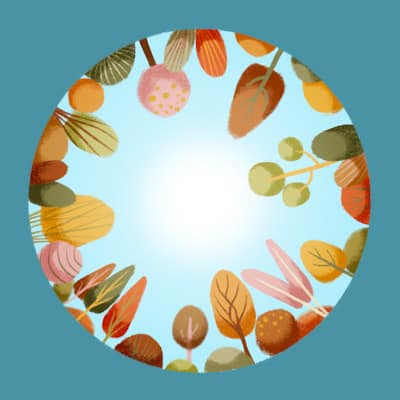 You're welcome to use your favorite brush and colors if you like.
We will work from individual elements like trees, bushes and grass, then add shadows, details like trunks and branches. From this set of elements we will make two different compositions in class.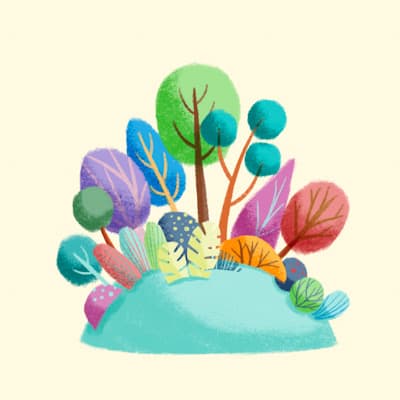 At the end of the class you'll be able to make your own compositions. Soft greenery with Procreate class
What students say about the class
A clear and informative class with lots of inspiration for both beginners and established artists interested in this loose style of illustration. Cècile shows her process in an easy to follow and understandable way and provides a lovely soft edged brush and a selection of colour palettes to get you started =)
Caroline

Very fun process to create a fun and enchanting scene– which can be further applied to many other situations. Enjoy!
Sheri

I enjoyed the class very much. It was quite relaxing to create this fluffy greenery. Cecile is a great teacher, the lessons are clear and easy to follow.
Dannilea

Super fun class! great for beginners to learn some new techniques, and fun for more advanced users to relax and illustrate stylized landscape elements. I found the process to be very meditative, the shapes were easy to create and I found it to be a great way to explore some creativity. I drew the base shapes very quickly and then had fun thinking up and filling those tree and bush shapes with different patterns and doodles to give them variety.
Natasha