Description
Art coaching session: 30 mn private Zoom session where we work on your art and discuss ways to improve it.
During the meeting I'll explain what you can do to improve. I'll give concrete tips and suggestions, so you can work on improving your art.
The tips you'll learn will be useful in your future art as well.
More information about my art coaching session.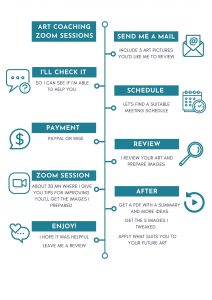 Art coaching session
Average rating:
2 reviews
Aug 28, 2021
Helpful!
As another client said, I really appreciated Cecile taking the time to adjust my work so I can visually see what my work would look like with the tips and suggestions she offers. I loved the fact that she gives a summary of the session after so we can reference when painting in the future. I also appreciated the class recommendations to sharpen my skills. Definitely worth every penny!
Aug 15, 2021
Great coaching session
Helpful tips and advice from Cecile on how I can improve my gouache painting. I loved her edited examples of my art to show visually the difference a few marks and adjustments can make to your work. I feel more confident in moving forward in my gouache journey. Thank you Cecile!