Digital pastels portraits with Procreate class
This class is about learning the importance of value over colors. Color is like the cherry on the cake; any color is correct as long as the value is correct. Knowing this, you can use any color you want for skin tones: blue, green, yellow, red, and purple!
'Digital pastels portraits with Procreate' class is available on Skillshare, and you can get a 14 days free trial with the link, if you're not already a subscriber. Or you can get the class on demand here.
I'll talk a bit about color theory, and especially how to use the color picker in Procreate.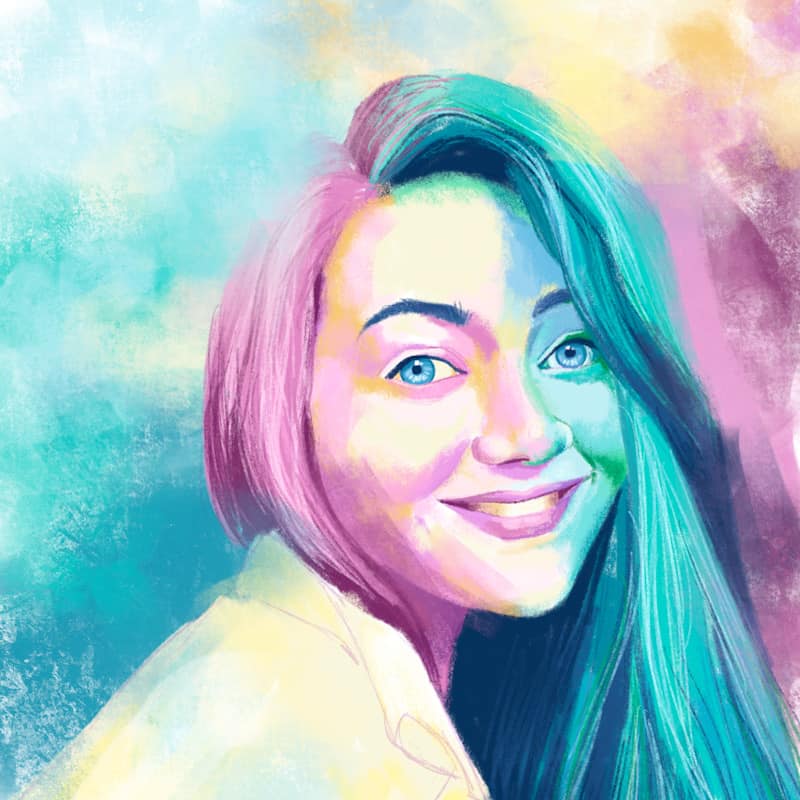 Then we will practice a colored nose with accurate values so you understand well the process of choosing the right colors. I'll show you how to blend the colors to get this soft pastel look.
Then, go for the full portrait!
I'll show you how to draw the portrait from the reference photo, or you can choose to trace if you prefer.
Then we will place the colors, taking care of color temperatures and values. I provide 5 different color palettes that you can use, depending on your style.
I'll show you how to place the colors, how to make nice transitions between colors.
The class is made with a 12B brush provided to download in the resource section, but it can be achieved with any other brush you like!
So, ready for a colorful portrait?
What students say about the class:
Mey
Honestly- one of the best Procreate tutorials I have ever seen ! Love the teacher, the lesson includes so many other lessons, with tracing, color temperatures, and light and darkness- which I was never able to "get" when it was a lesson just about that. I have only created the class project so far, but an using these lessons in other works I am doing, and this class helped me get other classes better! It's the perfect class for all levels, Beginners will find an easy to follow teacher, and advanced illustrators could surely benefit from going back to basics. Thank you 🙂
Michal
Perfect as always! Loved the part where she explained her sketching process too. Very helpful. Can't wait for the next class!!